Prof. ZHANG Jian's team at the Ningbo Institute of Materials Technology and Engineering (NIMTE) of Chinese Academy of Sciences (CAS) has developed a highly effective Co3O4 electrocatalyst for furan upgrading coupled with hydrogen generation. The study was published in Applied Catalysis B: Environmental.
Biomass is among the most abundant renewable resources on earth. Through catalytic conversion, biomass can upgrade into a series of fuels and chemicals which can substitute traditional fossil resources, thus plays a crucial role in achieving the goal of "peak carbon dioxide emission and carbon neutrality".
As the ultimate source of most energy on earth, solar energy can shorten the energy utilization path and improve the sustainability of the reaction process dramatically when introduced into catalytic reactions.
By virtue of sulfuration and in-situ electrochemical oxidation, researchers at NIMTE developed a hydrangea-like Co3O4 on cobalt foam as an efficient electrocatalyst.
A commercial solar cell battery was employed to provide a roughly stable voltage of 1.60 ± 0.02 V by adjusting the light shade. Under natural sunlight irradiation, the developed Co3O4 catalyst contributed to a complete conversion of the biomass 5-hydroxymethylfurfural (HMF) into 2,5-furandicarboxylic acid (FDCA) with 93.2% yield and 92.9% faradaic efficiency (FE), coupled with hydrogen generation with 99.8% FE.
Compared to the conventional thermal-driven conversion of HMF into FDCA, which generally requires high-temperature high-oxygen-pressure harsh reaction conditions and even expensive noble metal catalysts, the photovoltaic electrocatalysis technique based on the earth-abundant biomass proposed in this study showed many advantages, such as mild reaction conditions, low production cost, high energy efficiency and superior operating safety.
In addition, rearchers have applied for 8 invention patents on the related technique, with one patent issued. The study has provided a sustainable development path of bio-based high-value chemical production coupled with hydrogen generation.
This work financially supported by the National Natural Science Foundation of China (No. 22072170), Zhejiang Provincial Natural Science Foundation of China (Nos. LY19B030003, LQ19B060002), Key Research and Development Program of Zhejiang Province (No. 2021C03170), Ningbo Science and Technology Bureau (Nos.2018B10056, 2019B10096), and Chinese Academy of Sciences (No. QYZDB-SSW-JSC037).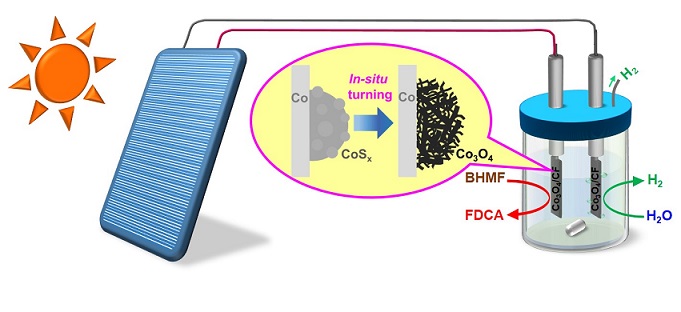 Fig. The photovoltaic electrocatalysis for biomass upgrading and hydrogen generation (Image by NIMTE)
Contact
CHEN Chunlin
Ningbo Institute of Materials Technology and Engineering
Email: chenchunlin@nimte.ac.cn
Date: 2022-04-07, Editors: HUANG Ye
【相关链接】